Post author:

Marubozu

Post published:

July 13, 2023
Refine your trading strategies and learn from one another! 
Prove yourself to be the best trader in Southeast Asia!
---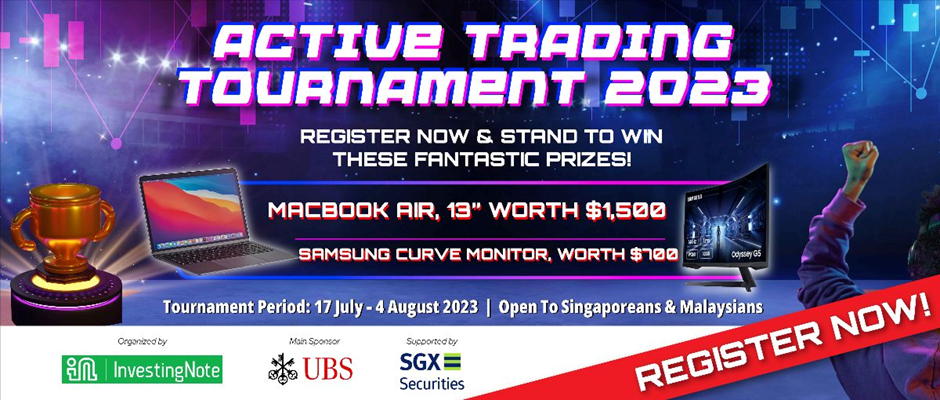 ---
Prove yourself to be the best trader in the region as the tournament is open to both Singaporeans and Malaysians! Click here to register now!

Join our upcoming Active Trading Tournament 2023, hosted in partnership with UBS and sponsored by SGX. This Year, traders will be tested not only on their trading skills but also for their methodology and their presentation during INVEST Fair on 12 Aug!
---
Register for INVEST Fair: Singapore's largest investment-themed fair here!
---
2 rounds in the Tournament:
– Tournament Trading Round
– Top 5 Finalists Pitch Round
 
The top 5 traders with highest portfolio returns for the tournament trading round will be invited to INVEST Fair SG on 12 August to do a live pitch on stage in front of panel of judges to win cash prizes.

Top 3 winning finalists of the Finalist Pitch Round will be selected based on the judging criteria: 70% by returns and 30% by the panel of judges.

‌View the presentation & judging rubric here!

It's one of the Biggest, Most Exciting and Prestigious Trade-Sport Tournaments in the Region which focuses on the trading of Daily Leverage Certificates (DLC). Feeling hopeful on a rebound? You can choose the Long DLCs. Market bad? You can choose the Short DLCs!

Whether you're holding Long or Short views on the market…meet and battle other traders in this year's Tournament where every participant's portfolios will be made transparent to the public!


Dare to accept our challenge? Up to $10,000 worth of prizes to be won!
Prizes to be won!
---
Register now and stand to WIN these Prizes:
🔹1x Macbook Air Laptop 13″ (Worth SGD$1,500)
🔹1x Samsung Odyssey Curve Monitor (Worth SGD$700)
Cash Prizes
🏆 1st Place: SGD$4,000
🏆 2nd Place: SGD$2,000
🏆 3rd Place: SGD$1,000
💎 SGD$40 Worth of Vouchers to be won DAILY!
💎 SGD$20 Worth of Vouchers for 10x Lucky Winners who make at least 3x trades!
Key Dates to Take Note:
---
✅ Registration Period: Starts Today!
✅ Tournament Trading Period: 17 July – 4 Aug 2023
✅ Final Pitch Period (Top 5 Finalists): 12 Aug 2023 at INVEST Fair

Register now to be amongst the 2 lucky winners who'd win either a Macbook or a Samsung Odyssey Curve Monitor!
Register here: https://bit.ly/3XEFEis