Post author:

Marubozu

Post published:

May 19, 2019
Eagle Hospitality Trust
EHT is a hospitality stapled group comprising EH-REIT and EH-BT.
EH-REIT is a Singapore-based real estate investment trust ("REIT") established with the principal
investment strategy of investing on a long-term basis, directly or indirectly, in a diversified portfolio
of income-producing real estate which is used primarily for hospitality and/or hospitality-related
purposes, as well as real estate-related assets in connection with the foregoing, with an initial
focus on the US.
For the purposes of this Prospectus, real estate used for "hospitality" purposes includes hotels,
serviced residences, resorts and other lodging facilities, whether in existence by themselves as
a whole or as part of larger mixed-use developments, which may include commercial,
entertainment, retail and leisure facilities.
The REIT Manager is indirectly 51% owned by Howard Wu and 49% owned by Taylor Woods.
Howard Wu and Taylor Woods are the co-founders of the Sponsor (collectively, the "Founders"
and each, a "Founder") and they each own 50% of the common equity interests in the Sponsor.
EH-BT is a Singapore-based business trust which will be dormant as at the Listing Date. The
Trustee-Manager is indirectly 51% owned by Howard Wu and 49% owned by Taylor Woods.
EHT is a US hospitality specialist with an invested Sponsor and a portfolio of full service hotels
in the top US markets.
See related news below:
Type = US Hospitality Sector
Sponsor = Urban Commons, LLC (Owners Howard Wu & Taylor Woods aggregate 15.2% of Eagle Hospitality Trust)
REIT Manager: Howard Wu (51%) & Taylor Woods (49%)
Total Unit Offered = 580,558,000
Portfolio = 18 Hotel in US (across 21 states, 5420 rooms)
Portfolio Size = US$1.27 Billion
IPO Offer Price = US$0.78
NAV per unit = US$0.88
Price / NAV = 0.8863
Distribution Yield = 8.2% (2019), 8.4% (2020)
Distribution Policy = 100% for 2019. 90% for 2020. Semi Annual Payout.
Occupancy Rate = 73.6% (2018), 78.5% (2019 Forecast), 76.8% (2020 Forecast)
Gearing Ratio = 38.0%
WADM = 4.2 Years
Offer Closing Date: May 22, 2019 at 12:00pm
Listing Date: May 24, 2019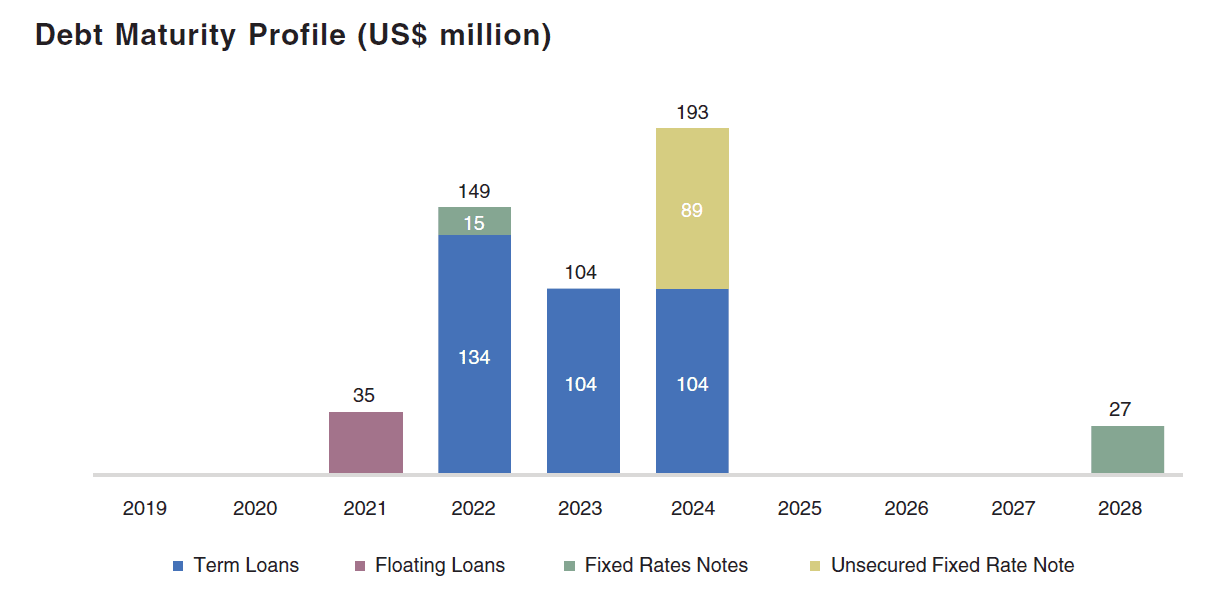 Compare to other Singapore REITs here.