Post author:

Marubozu

Post published:

January 15, 2022
With VTLs and travel slowly returning to normal, I took the opportunity this year-end season to visit Kuala Lumpur, and in the process, take a look at how S-REITs properties are performing. Starhill Global REIT has 2 properties in Kuala Lumpur, both located in Bukit Bintang, the shopping and entertainment district of Kuala Lumpur. The goal is to see in-person how the actual properties of REITs are doing in their overseas markets, and this site visit yielded some puzzling results.
Bukit Bintang, Kuala Lumpur, Malaysia
This visit was done during the year-end festive season, at around 4-6pm. Footfall in Bukit Bintang is very high, with crowds to be seen everywhere. Major tenants occupying the street include both Starhill Global REIT's properties Lot 10 Shopping Mall and The Starhill (formerly Starhill Gallery), Farenheit88, and Pavillion Bukit Bintang.
Bukit Bintang is also served by 2 rail lines, the KL Monorail and the MRT Kajang Line, in addition to the public buses that can be seen commonly on this street.
Lot 10 Shopping Mall
The front of Lot 10 Shopping Mall had high footfall, which is to be expected. Unfortunately for Lot 10, I did not take many pictures so here is a Google Street View image.
Compared to Pavilion Bukit Bintang, Lot 10 Shopping Mall is nowhere as crowded. However, there are still some shoppers visiting its shops, and the Lot 10 Hutong Food Village is relatively populated with diners. Shoplots seem fully occupied with no visible empty ones, even though footfall on the top level is a little sparse.
A visit to the rooftop garden yielded some nice views. There seems to be a gym and a cafe on the top floor.
All in all, Lot 10 Shopping Mall is definitely doing relatively well in its good location, attracting enough tenants to its food village and its anchor tenants (like H&M) on the lower floors.
The Starhill
Similar to Lot 10, its location right in Bukit Bintang is also excellent, albeit even slightly better, located right opposite Pavilion Bukit Bintang.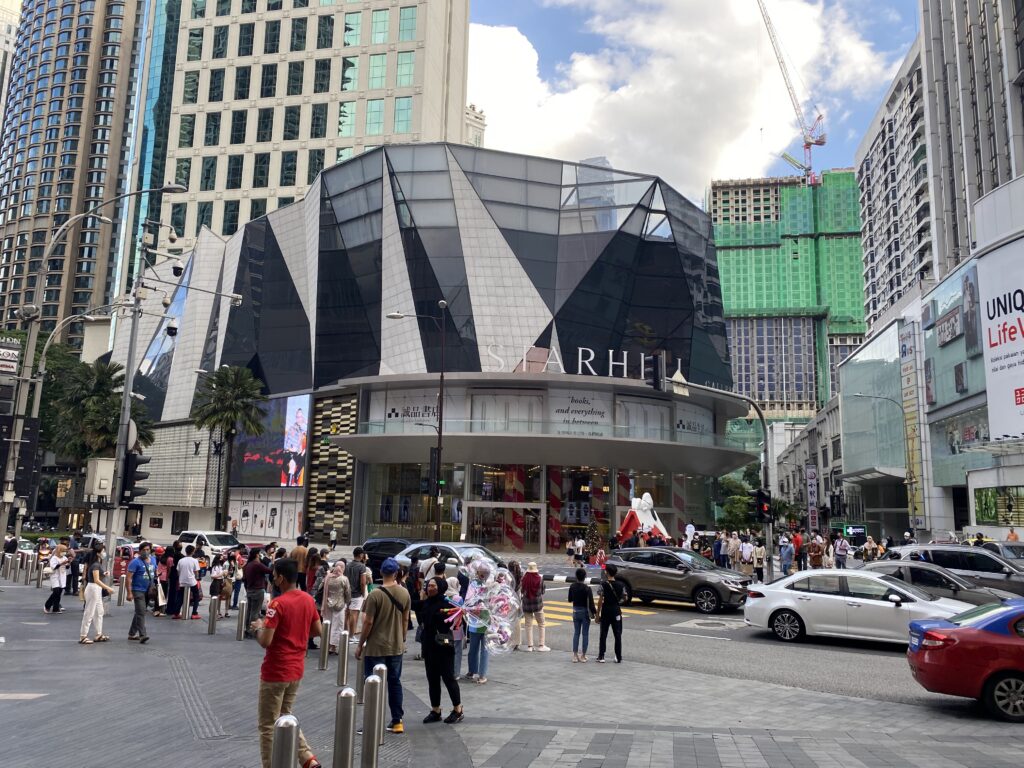 Entering the Starhill, we are greeted with a few tenants, however the mall was mostly empty, with shoplots boarded up. This was to be expected as The Starhill is currently undergoing an Asset Enhancement Initiative (AEI).
This was slightly puzzling, as we did not expect The Starhill to be near-empty. There are several shops with patrons on the ground floor, but the 1st and 2nd floor it was pretty much empty. (In Singapore, 1st floor is the same as Ground floor in Malaysia)
A visit to The Starhill's directory yielded fewer than 30 tenants, which is to be expected. It remains to be seen how The Starhill will perform Post-AEI, but it is located in an excellent location with very high footfall.