On 3 November 2021, Manulife US REIT ("MUST") [SGX:BTOU] released its operational updates for the third quarter ended 30 September 2021. I have been invited for a call with the management team for updates on MUST's 3Q 2021 operations as well as on the U.S. office landscape. I would like to thank Manulife US REIT for this opportunity.
Q&A Section
---
In this section I'll be touching on selected questions regarding MUST's operations, and their outlook moving forward.
Q: Just wondering, what is your outlook on acquisitions, will you be able to complete an acquisition this year or maybe by next year?
A: We've looked through 46 properties this year, and we are definitely getting closer to finding properties that we would be interested in acquiring.
Q: There were some occupancy exits in Q3 2021. How would you characterize these tenants at this point of time?
A: The most notable occupancy exit would be a tenant in Atlanta, they had an option to terminate a floor relating to the tenant's IT department. Although this department has already been working remotely distributed since pre-COVID, and COVID has only accelerated that transition. Therefore they took the option to terminate that lease.
However, this particular tenant is notably one of our biggest tenants in terms of occupied square footage, and also has very long lease terms. Therefore this drop in occupancy shouldn't be due to overall market sentiment changes toward the US office market.
Less than 20% of buildings in the US are currently green. In the next couple of years, when regulation on carbon emissions kick in, there will be an inevitable rush to 'green' your buildings in the near future.
Q. I noticed you have conservatively recorded portfolio devaluations for the past few years. Just wondering if we can expect a turnaround within the next year.
A: We do feel that our values are conservative, but we cannot rule out the possibility that there will still be a decline. Broadly speaking however, the US office market has been flat but is starting to see positive signs in the leasing market (in terms of rent growth etc), and that should be reflected as we approach our next round of valuation. Furthermore, independent third-party valuers that conduct valuation on our properties may have different views on how valuation is conducted, although we are optimistic.
Q: I am quite heartened to see that MUST is a proponent of going green, and are aiming to achieve 100% of your properties with green certification. Can you give us a sense of how much capex to expect from greening your portfolio (and in the future maintaining the status)?
A: Certainly we won't be seeing additional discernable capex spending to get to the 100% goal (of seeing our entire portfolio green-certified) next year. We're looking at the one remaining building, specifically the Energy Star award which takes a year to achieve. Our policy in the future is to 'green as we go along.' Recently for example, we renewed energy contracts and moved them to renewable energy sources. The gradual switching to greener and more sustainable options shouldn't impact capex dramatically, as these are costs that we would have already taken into account anyway.
Also, 8 out of 9 properties in our portfolio are already green (meaning they are LEED and/or Energy Star certified). This means that these properties are already meeting the standards, meaning no additional capex is needed to make it greener. That being said, additional capex to 'green' existing buildings which do not meet the above-mentioned standards can be relatively significant.
Large, corporate tenants are already looking beyond energy ratings and green building certifiations. They want to know your environmental philosophies and goals as a sponsor.
Q: Generally, are tenants particular about looking for green and sustainable buildings?
A: Definitely we are seeing an increase in the number of tenants who are looking for green buildings. It has been quite slow in America but it has been steadily increasing. One relatively large tenant in particular has been specific in terms of getting to know about MUST's green prospects. Big corporate tenants are already looking beyond things such as certification. 
One key point to take note is that a lot of American government agencies actually do not allow their office spaces to be in non-green buildings. With USA pledged to net-zero by 2050, steps have already been taken to ensure its goals are met. In New York by 2024, building owners can incur fines if their carbon emissions exceed a certain level. 
Growth in the US Office Sector
---
Recovery of Leasing Activity
MUST: We have hardly any more leases coming due in 2021, having executed ~490,000 sq ft in leases from 1 Jan to 25 Oct 2021 – a significant volume which shows that tenants are now more certain about their space needs and are ready to sign leases again. This is a change from when COVID-19 first started last year and leasing activity slowed drastically.
Surge in New Leases
MUST: In particular, we have seen new leases jumping from 3.3% in 1H 2021 to 32.3% from 1 July to 25 Oct 2021, which shows that there is new demand for our office space in the market (i.e. we are not just renewing existing leases). This demonstrates healthy fundamentals in the U.S. office market and good demand for our buildings.
Reduction of Subleasing
MUST: Finally, our performance dovetails with what's happening across the broader U.S. market, where leasing volume is up and tenants are signing longer leases. Base rents and net effective rents (which take away the effect of tenant improvement allowances and free rent) are recovering, and subleasing declined for the first time since COVID-19.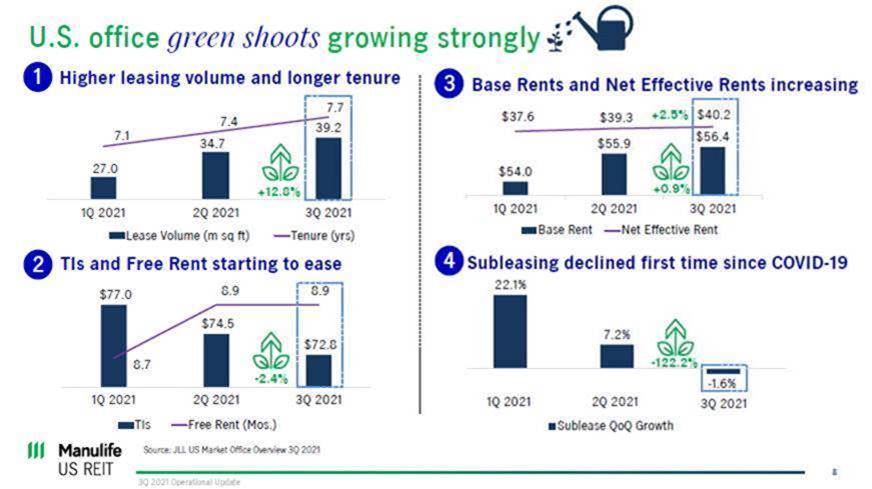 *Subleasing is the re-renting of property space by an existing tenant to a third party for a portion of the tenant's existing lease contract. A large volume of sublease space was put on the market when COVID-19 first struck, due to tenants' uncertainty about their space needs while some also faced financial difficulty. The fact that this is now declining shows that either existing tenants are expanding, or they are more certain about their financial stability and space needs.
Kenny Loh is a Senior Financial Advisory Manager and REITs Specialist of Singapore's top Independent Financial Advisor. He helps clients construct diversified portfolios consisting of different asset classes from REITs, Equities, Bonds, ETFs, Unit Trusts, Private Equity, Alternative Investments, Digital Assets and Fixed Maturity Funds to achieve an optimal risk adjusted return. Kenny is also a CERTIFIED FINANCIAL PLANNER, SGX Academy REIT Trainer, Certified IBF Trainer of Associate REIT Investment Advisor (ARIA) and also invited speaker of REITs Symposium and Invest Fair. You can join my Telegram channel #REITirement – SREIT Singapore REIT Market Update and Retirement related news. https://t.me/REITirement