FTSE ST Real Estate Investment Trusts (FTSE ST REIT Index) decreases from 795.76 to 781.09 compare to last post on Singapore REIT Fundamental Comparison Table on June 1, 2015. The index has broken down from the 200D SMA support and trading below 20D/50D/200D SMA. Down trend has been started for Singapore REITs in general as "Lower Low, Lower High" chart pattern is formed.  Immediate resistance at 785. Take note that the index has broken the Head and Shoulder neckline support. This is a trend reversal pattern.
Learn Stock Chart Pattern and Technical Analysis here.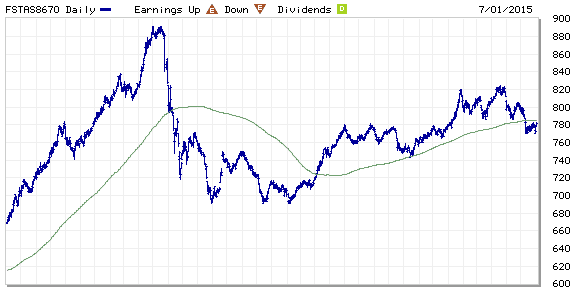 Price/NAV decreases from 1.05 to

1.03

.  (Singapore REIT in general slightly overvalue)
Distribution Yield increases from 6.48% to 6.61% (take note that this is lagging number)
Gearing Ratio remains at 34.08%
Most overvalue REIT is Parkway Life (Price/NAV = 1.37), followed by FIRST REIT  (Price/NAV = 1.36). Both Healthcare REIT, Defensive in nature.
Most undervalue REIT is Fortune REIT (Price/NAV = 0.66), followed by OUE Commercial Trust (Price/NAV = 0.74).
Higher Distribution Yield is VIVA Industrial Trust (9.54%) followed by Lippo Mall Trust (8.66%). Note: High Distribution Yield does not mean it is safe REIT for investment. Don't invest purely base on the Yield % because it is wrong thing to do without knowing the reasons.
Highest Gearing Ratio is Croesus Retail Trust (50.4%) followed by VIVI Industrial Trust (43.4%)
Grab an insight of the REIT class here 3 Tips To Increasing Returns On REITs Investments
Check out the very pragmatic and educational public seminar here "Investing in Singapore REIT".
Singapore Interest Rate increase from 0.22% to 0.39%.
1 month decreases from 0.70696% to 0.69688%
3 month decreases from 0.82955% to 0.82100%
6 month decreases from 0.88909% to 0.88374%
12 month decreases from 1.01839% to 1.01367%
We have finished the month of June but US Federal Reserve still has not increased the interest rate yet. Interest hike will affect the borrowing cost, it is time for all the Investors to review your current investment portfolio and debt profile. Plan the next step before the day comes because it will affect your investment and loan monthly installment. Take initiative to evaluate your current mortgage loan and work on Refinance Plan before the mortgage loan interest shot up even further.