FTSE ST Real Estate Investment Trusts (FTSE ST REIT Index) increases from 717.26 to 745.33 (+3.91%) compare to last post on Singapore REIT Fundamental Comparison Table on June 5, 2016. The index rebounded strongly from 200D SMA support and stay above all the 20D/50D/200D SMA. 200D SMA also starts to trend upward. This is the bullish sign and technically Singapore REIT sector is in bullish territory. SGX S-REIT (REIT.SI) Index increases from 1102.94 to 1141.99 (+3.54%)
Price/NAV increases from  0.948 to 0.97 (Singapore Overall REIT sector is slightly under value now)
Distribution Yield decreases from 7.25% to 7.14% (take note that this is lagging number). More than half of Singapore REITs (20 out of 39) have Distribution Yield > 7%. Current yield is attractive (for certain REITs only) but dangerous to make investing decision purely base on the yield. Past performance does NOT equal to future performance.
Gearing Ratio decreases from 34.76% to 34.53%.  24 out of 39 have Gearing Ratio more than 35%.
Most overvalue is Parkway Life (Price/NAV = 1.491),  followed by Ascendas iTrust (Price/NAV = 1.42).
Most undervalue (base on NAV) is Sabana REIT (Price/NAV = 0.609), followed by Far East HTrust (Price/NAV = 0.656) andFortune REIT (Price/NAV = 0.721).
Higher Distribution Yield is Sabana REIT (10.09%), followed by Lippo Malls Trust (9.35%) followed by Cache Logistic Trust (9.48%)

Highest Gearing Ratio is Croesus Retail Trust (46.2%), iREIT Global(43.1%) and OUE Commercial Trust (40.5%)
Note: Recent IPO of Manulife US REIT and Frasers Logistic & Industrial Trust are added.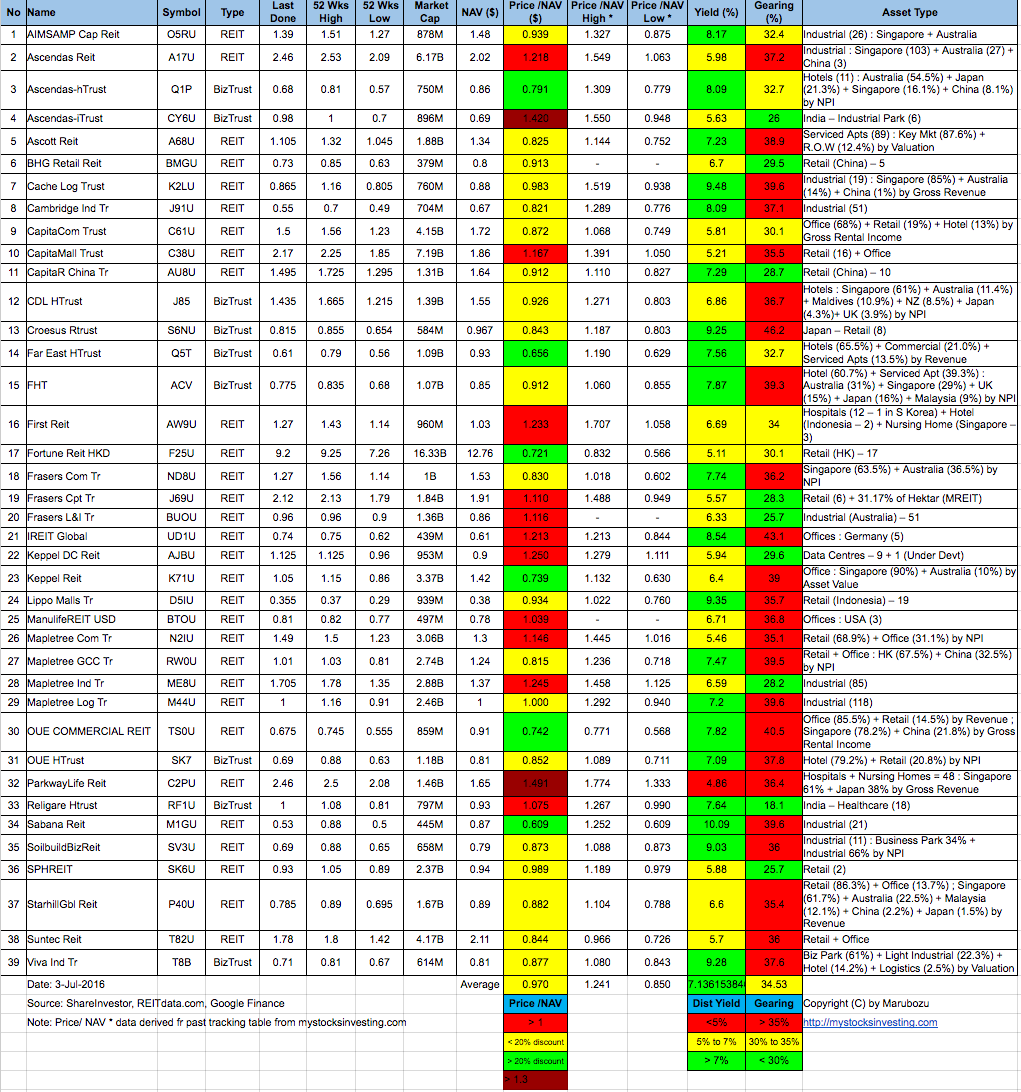 Disclaimer: The above table is best used for "screening and shortlisting only". It is NOT for investing (Buy / Sell) decision. To learn how to use the table and make investing decision, Sign up next REIT Investing Seminar here to learn how to choose a fundamentally strong REIT for long term investing for passive income generation.
Singapore Interest Rate maintains at 0.23%
1 month decreases 0.75634% to 0.75000%
3 month decreases from 1.00192% to 0.99463%
6 month decreases from 1.23863% to 1.23466%
12 month maintains at 1.37375%
Fundamentally Singapore REITs in general, the valuation and distribution yields are still attractive. Technically Singapore REITs sector is in bullish territory and on uptrend. US Fed may delay the interest rate hike as there are a lot of uncertainties due to Brexit.  This may probably be the reason why Singapore REIT is coming back to life again!  Find out Which Singapore REIT to Buy, Which Sectors to consider,  and When is the Right Time to Buy in the next Singapore REITs Investing class.
Original post from https://mystocksinvesting.com