19 August 2022
Money and Me: Q3 2022 SREIT winners
Kenny Loh, REIT Specialist and Independent Financial Advisor looks at the top performing SREITS for Q3 2022 and where value in the market is. The article version (transcribed) of the interview can be found below.
Timestamps
0:18 Intro
1:19 Kenny's clear winners in Q3 2022 this year
2:00 What are the drivers for the good performance for them this year? (EC World, DHLT, Data Center REITs)
Digital Core REIT
3:02 How does the performance of Digital Core REIT compare against its past results?
4:27 What does Digital Core REIT's planned acquisitions mean in the near term?
DHLT
5:22 Daiwa House Logistics Trust: Will Logistics Trusts continue being a strong driver in the near term?
7:18 How will Japan's inflation rates impact DHLT?
EC World REIT
8:03 How is EC World REIT performing, despite China's covid-zero policy?
9:57 Who are the laggards in terms of performance? (poor performance)
Transcription:
Q. Kenny, who are the clear winners for Q3 2022 in your book?
It's quite clear cut that the data center and also industrial are in the rotation play. They actually performed better in Q3, since one and a half years ago. So the top three performers in this quarter would be Digital Core REIT, gone up by 18%, Daiwa Logistics trust about 18% also, and also EC world about 17%. But all this top three performers basically are not really fantastic news. They basically just recovered from the knee jerk sell off in the private quarters.
Q. What are the drivers for why they've done so well so far? And do you see any correlation between that and the recovery in global markets that we've.
Yeah, based on the fundamental itself, basically these 3 REITs, the valuation is not really over-stretched before the sell off. So during the sell off, basically there are some negative news because one of the hedge funds came out with a report to really short the data center space.
Right. I read the fundamentals, I read the reasoning. I do not agree to it on, on the data center space and for the EC World REIT itself, basically that there was a fear of they not able to do the refinancing. That's why during that period, during the uncertainty, uh, there is a sell off until they're able to really delay for one more year to do the refinancing.
So after all the negative news gone away, basically it's really back to the normal valuation.
Q. Now, when you take a look at the winners, and the top five REITs, if we start with Digital Core REIT, Kenny, how does the performance of Digital Core REIT compare with what you've seen in terms of its past results?
Yeah, so, so far, in terms of the share price department, Digital Core REIT, Actually the share price has recovered more than 20% after hitting a bottom of around 70, uh, US cents. But if you look at the NPI and also the DPU, basically, there's nothing so fantastic. It's quite comparable to the forecast, the NPI for first, top of 2022, it's only go up by around 5.9%.
Okay. Not, not so bad. And the DPU just missed by 1.4%, uh, giving a distribution of 2.06 cents versus 2.09 cents as the forecast. But if you look at the yield itself, the estimated annualised DPU, basically at the present moment at current stock price, giving us 4.8%. And this 4.8% annualised this description view is quite comparable to KDC.
And, and at the same time, in terms of evaluation itself, mm-hmm, Digital Core REIT has a much attractive evaluation and also financial ratio compared to capabilities. Digital Core REIT has a, a lower gearing ratio at 25.7, which means that they have a lot more debt room for the future acquisition. At the same time, the price is about 1x.
Q. Speaking of future acquisitions, Digital Core REIT is a pure play data center REIT, and it has said it's gonna be looking at new markets like Chicago and Dallas and Frankfurt for acquisitions. What could this mean in the near term?
In the near term, I would expect them to continue to grow their portfolio because if you look at the initial portfolio as well, the tenant concentration is pretty huge.
They are only focused on few tenants. So in order to really diversify away all the tenant concentration risk, uh, risk, they probably have to, uh, grow it. And, and that is part of the, the plan in the IPO. So in the near term expect they will, uh, announce, uh, some of the new acquisitions based on their low gearing.
Hopefully they don't really need to, uh, issue additional rights and also, uh, do a lot more private placements that dilute the shares. Hopefully they just finance the whole thing for that.
Q. Interesting. Let's look at Daiwa House Logistics Trust, uh, which is among the top five performing trusts for the third quarter of 2022, currently up 21.3%, but for the quarter 18%, we saw a movement up. Now, when it comes to Daiwa House Logistics Trust, it said that it expects demand for large scale logistics to continue to be a strong driver all the way till 2023. Do you agree with them?
I tend to agree because if we are looking forward into the future as well, in the least for the near term, they are basically two catalysts to push the logistics sector and warehouse sectors to do well.
The first catalyst will be this logistic space continued to be driven by the growth in the e-commerce and also wide adoption of the eCommerce. So in order to have a very efficient eCommerce that need the modern warehouse for logistic system or even a supply chain system to handle the huge volume in a very efficient way.
And, and beside the very efficient way, we also need to look the speed, and also, uh, the core structure for the logistic itself. So if we are continue to use the old, old warehouse or old logistics system, you are not able to be competitive moving forward. So modernization on the logistic and also supply chain warehouse probably the drives the REITs to continue to upgrade their warehouse base.
That is the first catalyst, right? For the second catalyst itself for the past two or three years. We also know that we have many, many shutdowns and also cause a lot of supply chain, uh, disruptions. So the manufacturer was forced to change their model from just in time (JIT) to just in case (JIC) models to keep an inventory to prevent all this kind shut down, uh, from happening again, because that is quite destructive to the manufacturing. And also the whole thing you drive up the on the inflation.
Q. Do you expect the way Japan is grappling with inflation to impact Daiwa House Logistics Trusts' earnings?
When you come to the investment space, uh, there is something called movement in sympathy. Maybe the stock market does not really care where is your location? Right? When there is a sell off, you expect the whole sector to sell.
Then after a while, the, the, maybe the institution, a problem manager have to go and deep dive and to see which REITs have a minimum impact, then that may probably cause a recovery. So, sentiment is important and sector rotation is important in the REITs space so far
Q. So how well do you think another one of in the group of the top five that we've seen EC World REIT how well has it done? Despite China's continuing COVID zero policy.
Right based on the revenue and also the NPI publish, uh, in the latest earning, uh, just, just bear in mind that all this data are lagging.
I don't really see that, uh, there is any, uh, big impact, EC World seems that holding quite well, uh, in this, uh, zero correct policy, but my biggest concern will be moving forward. It's not for the past one or two years because moving forward, how EC World are going to manage. And they have refinancing need to be done within in one year's time.
And China economy is not doing well. Right? There are two fronts. One thing is the GDP is started coming down, right? The growth start to slow down that will affect the business itself. And in return that will also affect the property valuation. Right with the high gearing and also dropping of the valuation itself, it makes, uh EC World much more difficult to do the fundraising or, or do the debt, uh, refinancing.
And also the other thing to signal that China is currently going through the property and also mortgage crisis. So the bank would be very reluctant to, to loan it to the real estate sector because they do not really want to expose into a real estate sector. So, so I would see that probably all the banks in China, they are pulling back and reducing the exposure to real estate that make EC World even more difficult to do refinancing.
So, uh, for me, uh, forward looking risk is much more higher than the, the past financial performance.
Q. Who are the laggards in terms of performance?
The laggards uh, US Office REITs, quite surprisingly based on the past few, so called the earnings release by Manulife US REIT, Prime US REIT and KepPacOak US REIT.
It is quite, I I'm seeing that actually the, the return to the office is not a fast compared to Singapore because Singapore, for, for employees in Singapore, we being asked to go back to the office to work. I think we are more obedient, but ask yourself, it's taking a little longer over there. Huh? Right, right. Actually the, you can see from a, the data itself, actually the workplace, uh, occupancy is pretty low, right?
And also, uh, this also cause in, uh, uh, slow down in the leasing space and, uh, hybrid work mode of work is still preferred in us moving forward. So that will probably, uh, drag in the US Office sector. But if you really based on the fundamental itself, based on evaluation is pretty attractive. So in terms of share price, I would say that for the Q3 Q4, probably no one wants to take such a risk.
Yeah. But if you are looking for long term, right, five years, 10 years, you can do some study on the fundamentals itself because some of them the REITs are not really impacted. And the financial ratio is also pretty good. Also. Uh, it's pretty attractive.
Navigating Volatile Markets to Beat Inflation (Physical Seminar 1st October 2022)
---
Worried about the high inflation rates? Join us as we share tips on how to beat inflation, and our inflation outlook for the rest of the year and beyond. You will learn ways to edit your investment portfolio to beat the high inflation rates, in a SAFE way.
As this is a physcial seminar, seats are limited so sign up today.
Date: 1st October 2022 (Saturday)
Time: 10am – 12pm
Venue: Gateway West (150 Beach Road, #12-01/08, Singapore 189720)
How to Build a REIT Portfolio into a Retirement Plan? (SGX Academy Webinar, 5th October 2022)
---
Want to learn the fundamentals of what REITs are, and how can this asset class complement your investment portfolio? Why should you invest in this asset class with an average p.a. yield of 5-7% and $100 minimum investment amount? Tune in to learn how to kickstart/improve your REITs investing!
Date: 5th October 2022 (Wednesday)
Time: 7pm – 830pm
Venue: Online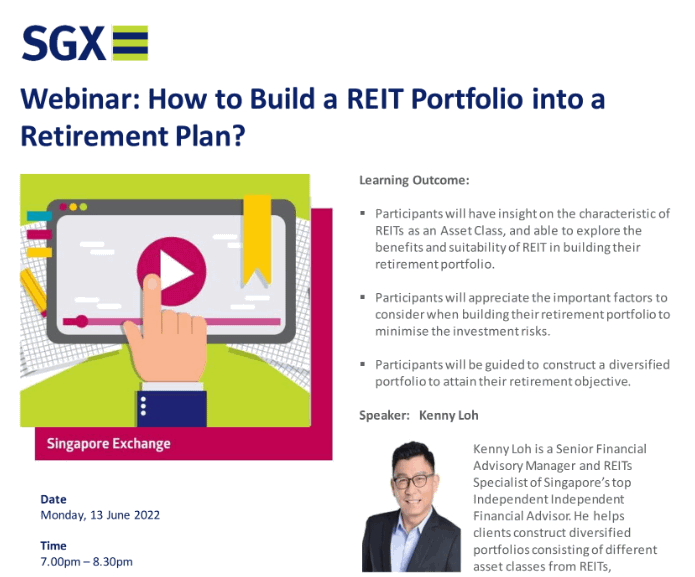 Listen to his previous market outlook interviews here:
2022
2021
2020
Kenny Loh is an Associate Wealth Advisory Director and REITs Specialist of Singapore's top Independent Financial Advisor. He helps clients construct diversified portfolios consisting of different asset classes from REITs, Equities, Bonds, ETFs, Unit Trusts, Private Equity, Alternative Investments, Digital Assets and Fixed Maturity Funds to achieve an optimal risk adjusted return. Kenny is also a CERTIFIED FINANCIAL PLANNER, SGX Academy REIT Trainer, Certified IBF Trainer of Associate REIT Investment Advisor (ARIA) and also invited speaker of REITs Symposium and Invest Fair.
You can join my Telegram channel #REITirement – SREIT Singapore REIT Market Update and Retirement related news. https://t.me/REITirement