Have observed several Elliott Wave Patterns in China HongXing. The attached China HongXing charts have shown two complete Elliott Wave patterns (Wave 1 – 5, Wave A, B, C) previously. Now China HongXing is showing the another potential Elliott Wave pattern showing the Wave 4 in formation. If you believe in Elliott Wave pattern and believe the history may repeat itself, you should be able to predict the next movement by studying how the Wave 5 performed on the previous two occasions.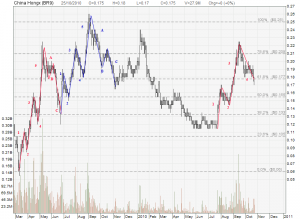 Past two Wave 5 performance:
From $0.13 to $0.21 in two weeks (61.5% increase)
From $0.18 to $0.25 in two weeks (38.8% increase)
Take note of the Fibonacci numbers (61.8%, 38.2%)…. A coincidence?
So, next performance? From $0.175 to ???? in ?? weeks?
Look at the China HongXing chart and make your prediction!
Welcome to post your prediction here!