In the first week of October, I'll be conducting a webinar as well as a physical seminar. 
Navigating Volatile Markets to Beat Inflation (Physical Seminar 1st October 2022)
---
Worried about the high inflation rates? Join us as we share tips on how to beat inflation, and our inflation outlook for the rest of the year and beyond. You will learn ways to edit your investment portfolio to beat the high inflation rates, in a SAFE way.
As this is a physcial seminar, seats are limited so sign up today.
Date: 1st October 2022 (Saturday)
Time: 10am – 12pm
Venue: Gateway West (150 Beach Road, #12-01/08, Singapore 189720)
How to Build a REIT Portfolio into a Retirement Plan? (SGX Academy Webinar, 5th October 2022)
---
Want to learn the fundamentals of what REITs are, and how can this asset class complement your investment portfolio? Why should you invest in this asset class with an average p.a. yield of 5-7% and $100 minimum investment amount? Tune in to learn how to kickstart/improve your REITs investing!
Date: 5th October 2022 (Wednesday)
Time: 7pm – 830pm
Venue: Online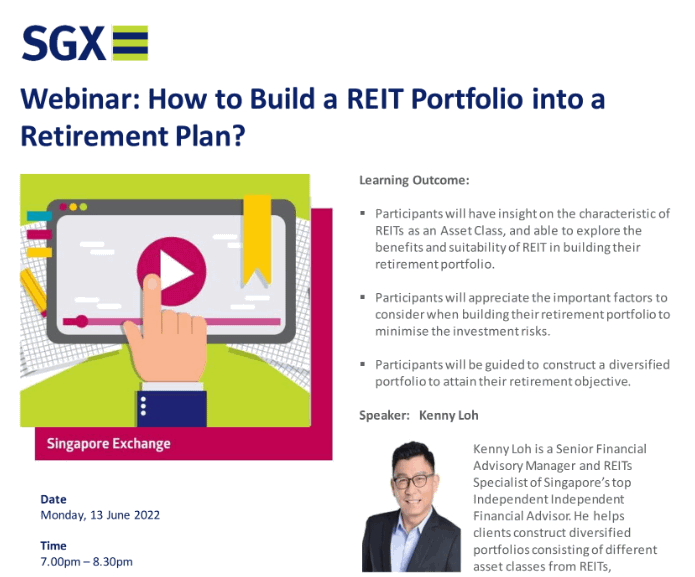 Participants will have an insight on the characteristics of REITs as asset class, and able to explore the benefits and sustainability of REIT in building their retirement portfolio.
Participants will appreciate the important factors to consider when building their retirement portfolio to minimise the investment risks.
Participants will be guided to construct a diversified portfolio to attain their retirement objectives.
Kenny Loh is a Associate Wealth Advisory Director and REITs Specialist of Singapore's top Independent Financial Advisor. He helps clients construct diversified portfolios consisting of different asset classes from REITs, Equities, Bonds, ETFs, Unit Trusts, Private Equity, Alternative Investments, Digital Assets and Fixed Maturity Funds to achieve an optimal risk adjusted return. Kenny is also a CERTIFIED FINANCIAL PLANNER, SGX Academy REIT Trainer, Certified IBF Trainer of Associate REIT Investment Advisor (ARIA) and also invited speaker of REITs Symposium and Invest Fair.
You can join my Telegram channel
#REITirement – SREIT
Singapore REIT Market Update and Retirement related news.
https://t.me/REITirement