See previous week Weekly Inter Market Analysis.
Original post from https://mystocksinvesting.com
SPY (SPDR S&P500 ETF)
Profit taking after SPY broke the all time high resistance at 219.31 and entered into uncharted territory.  A healthy retracement is needed for SPY to move higher. Take note that the bullish between Nov to April seasonal cycle is going to start.
Immediate resistance – 221.50
Immediate support: about 219-220. (have to turn to support for SPY to move higher)
Resistance turned support zone: 211-213.
Rising Wedge immediate support: about 210.
200D SMA support (trending up): about 211
VIX
VIX continues to stay within the complacent zone. No fear when Santa Claus is coming to town.
Sector Performance (SPDR Sector ETF)
Best Sectors: Energy (XLE) +2.09% due to a huge spike in Crude Oil price.
Worst Sector: Technology (XLK)  -2.68%.
SUDX (S&P US Dollar Futures Index)
SUDX is currently facing resistance and due for a correction. SUDX has moved too high too fast and definitely need a pause or retrace before moving higher.
FXE (Currency Shares Euro ETF)

FXE looks like finding a support at around 103 and is currently rebounding.
XLE (SPDR Energy Sector ETF)
XLE is currently facing the previous support turned resistance, and also the uptrend channel resistance.
USO (United States Oil Fund)

USO rebounded from the Symmetrical Triangle support and currently testing the resistance. Expect USO to trade within the range until breakout.
TLT (iShares 20+ Years Treasury Bond ETF)
TLT is find support at 118. Wait for the reversal and re-look at the bond market for bargain hunting. Some of the bonds can be very attractive after the recent sell off.
GLD (SPDR Gold Shares)

GLD looks like finding support at about 112. Will it rebound from here?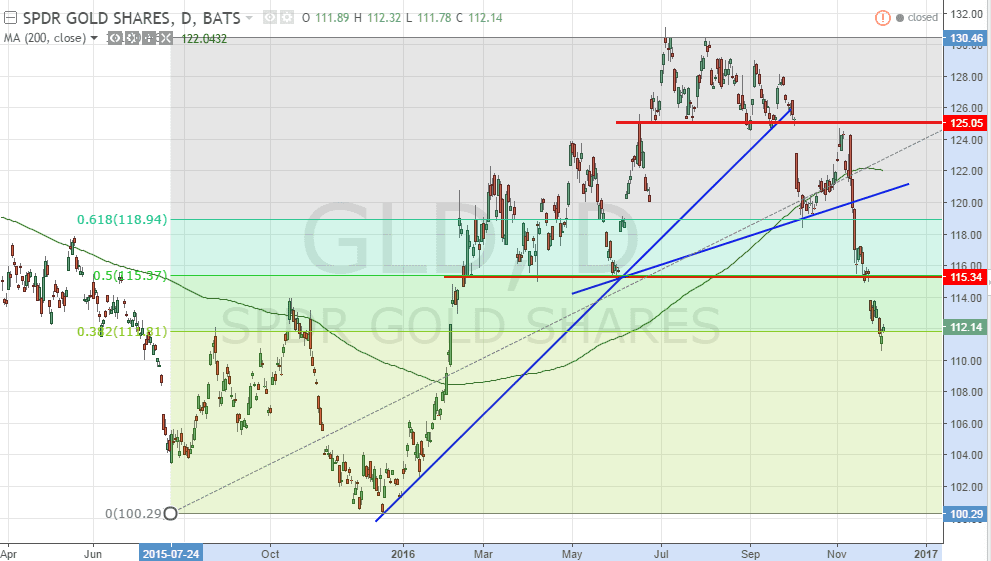 Next Week Economic Calendar
Key events:
Crude Oil Inventory on Dec 8 (Thursday)
ECB Press Conference on Dec 8 (Thursday)
US Unemployment Claims  on Dec 8 (Thursday)
See upcoming Events here. https://mystocksinvesting.com/events/