Post author:

Marubozu

Post published:

October 13, 2022
InvestingNote's Annual Virtual Trading Tournament is now open for registration – we're inviting you to one
of the Biggest, Most Exciting and Prestigious Trade-Sport Tournaments in the Region!

This year, this tournament is held in partnership with UBS and SGX. This tournament focuses on the
trading of Daily Leverage Certificates (DLC), to test the limit of the participants' skills to the maximum.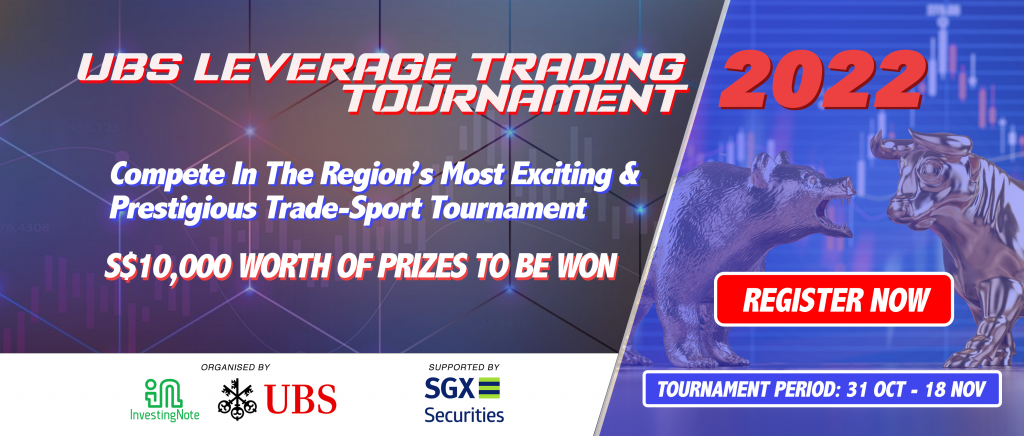 Feeling hopeful on a rebound? You can choose the Long DLCs.
Market bad? You can choose the Short DLCs!

Whether you're holding Long or Short views on the market…meet and battle other traders in this year's
Tournament where every participant's portfolios will be made transparent to the public!

Get ready, because it's going to be intense as the trading heat is on!
Here's your exclusive invitation to join right now: https://bit.ly/LTT2022UBS
It's all virtual capital but the prizes are real – up to S$10,000 in total!

Register Now and stand to WIN these Prizes:
1x Apple TV 4K Setup Winner (worth $400)
1x Samsung 27" Essential Curve Monitor Winner (worth $400)
1x Nintendo Switch OLED Console Winner (worth $400)

Top Prizes To Be Won:
1st Place: S$4,000
2nd Place: S$2,000
3rd Place: S$1,000
$60 CapitaLand Vouchers for Daily Top Trade Winners
$30 CapitaLand Vouchers for 30x winners will be selected randomly amongst registered participants,
who made at least 3 times during the Tournament period – the more you trade, the more chances!

Key Dates To Take Note:
Registration Period: Starts Today
Tournament Period: 31 Oct – 18 Nov 2022

Hurry Register Now so that you'd be amongst the 3 lucky winners who'd win either an Apple TV 4K,
Samsung Curve Monitor or a Nintendo Switch!

Open your invitation to join here: https://bit.ly/LTT2022UBS and we'd see you at the Top!