The earning season is well underway with 13 REITs yet to report Q4 2021 results. Of the 26 REITs that have reported results (as of 13th Feb 2022) a majority (15) have reported a positive year-on-year change in NAV/Unit. 3 REITs reported no change in NAV/Unit, while 8 REITs have reported a negative year-on-year change in NAV/Unit. The chart below shows the y-o-y change to NAV/Unit.
MUST's 2H FY2021 Results
---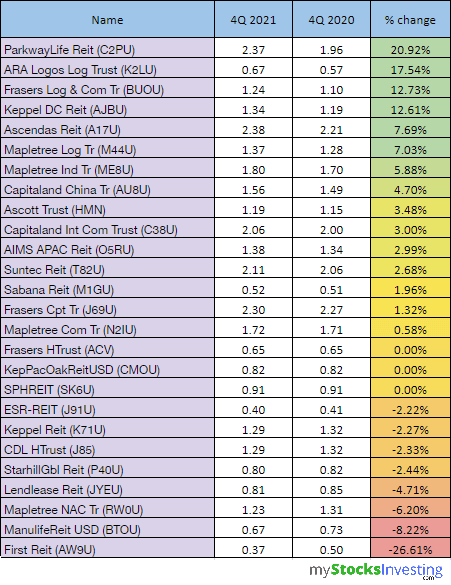 2 REITs standout in this table. First REIT (SGX:AW9U) with a -26.61% in NAV/Unit and Manulife US REIT (SGX:BTOU) with a -8.22% in NAV/Unit. First REIT's NAV drop can be attributed to the issuance of 791,062,223 rights units on 24 February 2021, as well as the restructuring of the REIT. The graphs below show the NAV/Unit, Gearing Ratio and Distribution Trends since MUST's inception.
---
Since its inception, MUST's NAV/Unit has been dropped from US$0.84 in Q3 2016 to US$0.67 in Q4 2021, a CAGR of -4.22%. Its gearing ratio has increased from 36.8% to 42.8% in the same time period.
The above (and below) data of MUST (and all 39 other REITs) can be found on the StocksCafe REIT Screener. Use code "kennyloh" for one free month.
MUST's DPU trend has been relatively stable since its inception, however. It has reported a 2HFY2021 DPU of 2.63 US cents, up 1.5% y-o-y. This has resulted in a very attractive trailing-twelve-months yield of 8.08%, which is much higher than the S-REIT average of 5.97% on February 5th, when we published the S-REIT February Monthly Market Update.
We decided to reach out to Manulife US REIT, with regards to the increasing gearing trends and declining NAV per Unit trends for the past 5 years. The following is their response.
Jill Smith, CEO of MUST: Gearing has been negatively impacted by COVID-19 due to appraiser assumptions of higher vacancies, higher tenant incentives and leasing commissions, and lower/zero rent growth in the first two years. NAV per unit has declined over the same period due mainly to fair valuation losses and factoring in also the recent private placement priced at a discount of US$0.649 below the NAV per unit.
That said, we have started to see positive valuation of 0.4% for same-store in 2H 2021. Also, in the past year, we have been minimising expenses and deferring non-essential capital expenditure, while focusing on leasing. In 2022, MUST has plans to rejuvenate the portfolio (e.g. disposition of lower cap assets, swapping for higher yielding assets) by increasing its exposure to high growth cities/tenants, recycle capital, and raise a higher portion of equity versus debt for future acquisitions in order to contain gearing.
Analysts have maintained their 'buy' calls in their reports, despite MUST's 2H FY2021 results missing expectations.
MUST is the Highest Rated S-REIT in MSCI ESG ratings
---
MUST is a frontrunner in achieving sustanability goals, with a 5-star GRESB (Global ESG Benchmark for Real Assets) Rating and an MSCI ESG Rating of AA. This is on par with Capitaland Invest, higher than Capitaland Integrated Comemrcial Trust, Keppel REIT and Keppel DC REIT (all with A ratings).
Manulife US REIT is a promising REIT, with a clear emphasis on sustainability. With a current attractive ttm yield of 8.08%, MUST has the potential to be a promising REIT. However, it remains to be seen whether MUST can turnaround its negative gearing and NAV trends, and deliver on their promises.
Kenny Loh is a Senior Financial Advisory Manager and REITs Specialist of Singapore's top Independent Financial Advisor. He helps clients construct diversified portfolios consisting of different asset classes from REITs, Equities, Bonds, ETFs, Unit Trusts, Private Equity, Alternative Investments, Digital Assets and Fixed Maturity Funds to achieve an optimal risk adjusted return. Kenny is also a CERTIFIED FINANCIAL PLANNER, SGX Academy REIT Trainer, Certified IBF Trainer of Associate REIT Investment Advisor (ARIA) and also invited speaker of REITs Symposium and Invest Fair. 
 You can join my Telegram channel 
#REITirement – SREIT
 Singapore REIT Market Update and Retirement related news. 
https://t.me/REITirement