Post author:

Marubozu

Post published:

May 30, 2020
While many investors are still waiting for the next market crash and trying to figure out the what is going on, FTSE ST REIT index has rebounded c.40% since the bottom on Mar 23, 2020.
There are 3 important lessons learned for Investing in this market crash:
(1) Stock Market is NOT the economy. The stock market is forward looking and moves ahead of the economy.
(2) Don't invest based on news
(3) Stay focus on what the chart and the price-action tell you. That's the truth on what is going on in the stock market.
Today is a very bullish day for Singapore REITs. It is very rare to see such huge price movement in a day. Furthermore, there are many  REITs breakout from the consolidation based on chart patterns.
CapitaMall Trust breakouts from Ascending Triangle chart pattern. This is a bullish breakout.
Ascott Residence Trust breakouts from Rectangle chart pattern. This is a bullish breakout.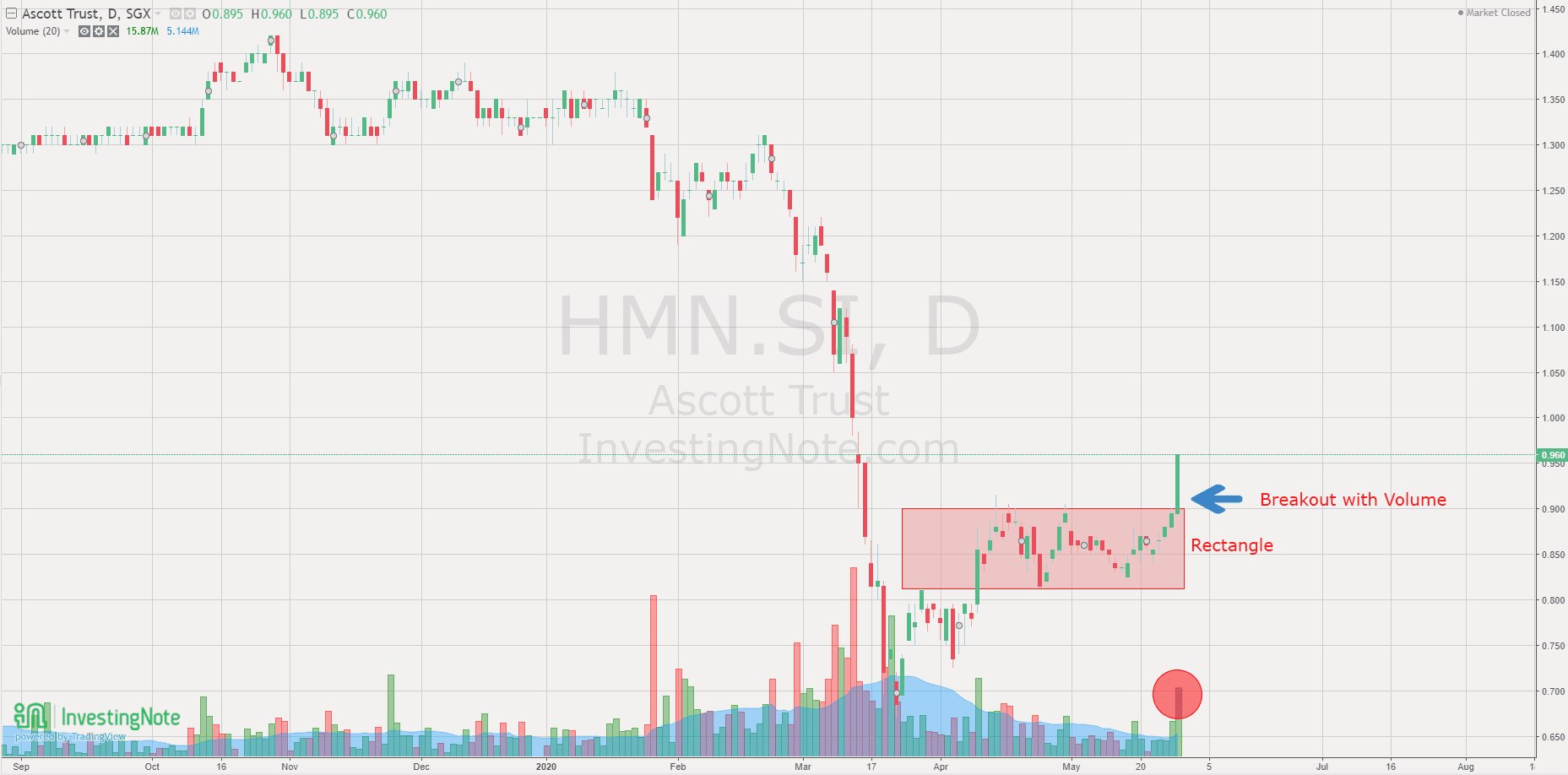 Manulife US REIT breakout from Symmetrical Triangle chart pattern. This is a bullish breakout.
Below are the 3 REITs which have completed the V shape rebounded and even go higher! Mapletree Logistic Trust and Keppel DC REIT closed at all time high now! Unbelievable Rally with a Superb V Shape Rebound!

Click here for the full REIT table.
There are 8 other REITs which are on the way to complete the V shape recovery soon.
If you have missed the recent rebound but need professional help to build a diversified Singapore REITs portfolio, you may consider the following 2 options:
(1) My Next REIT Online Course is planned on July 18, 2020 (Saturday). You can find the registration detail here. https://mystocksinvesting.com/course/singapore-reits-investing/
(2) REIT Portfolio Advisory to Kick start your REIT portfolio by leveraging my knowledge and my extensive research.  I am licensed to make recommendation on which REITs to buy, what price to buy and when to buy. Leverage on . I can be contacted through kennyloh@fapl.sg for Investment Portfolio Review, REIT Portfolio Consultation and Investment Planning. Advisory Fee applied.
Kenny Loh is a Senior Consultant and REITs Specialist of Singapore's top Independent Financial Advisor. He helps clients construct diversified portfolios consisting of different asset classes from REITs, Equities, Bonds, ETFs, Unit Trusts, Private Equity, Alternative Investments and Fixed Maturity Funds to achieve an optimal risk adjusted return. Kenny is also a CERTIFIED FINANCIAL PLANNER, SGX Academy REIT Trainer, Certified IBF Trainer of Associate REIT Investment Advisor (ARIA) and also invited speaker of REITs Sympsosium and Invest Fair.