FTSE ST Real Estate Investment Trusts (FTSE ST REIT Index) increases from 834.92 to 855.88 (+2.51%) compare to last post on Singapore REIT Fundamental Comparison Table on Dec 1, 2017.  The index continues within uptrend channel. All 3 moving averages (20D, 50D, 200D) are showing strong upward momentum. Technically Singapore REIT sector is bullish entering in the year of 2018! Congratulation to all REIT investors for a very profitable 2017!
Fundamental Analysis
Included Cromwell European REIT and Keppel KBS REIT in the table.
Price/NAV increases from 1.06 to 1.08 (Singapore Overall REIT sector is over value now).
Distribution Yield decreases from 6.42% to 6.38% (take note that this is lagging number). About one third number of Singapore REITs (11 out of 39) have Distribution Yield > 7%.
Gearing Ratio induces from 34.1% to 34.2%.  19 out of 37 have Gearing Ratio more than 35%. In general, Singapore REITs sector gearing ratio is healthy.
Most overvalue REIT is Parkway Life (Price/NAV = 1.78), followed by Keppel DC REIT (Price/NAV = 1.54), First REIT (Price/NAV = 1.38) and  Mapletree Industrial Trust (Price/NAV = 1.44).
Most undervalue (base on NAV) is Fortune REIT (Price/NAV = 0.72) and Sabana REIT (Price/NAV = 0.69).
Highest Distribution Yield (TTM) is SoilBuild BizREIT (8.8%), followed by Cache Logistic Trust (8.18%), Lippo Mall Indonesia Retail Trust (8.8%) and Sabana REIT (8.51%).

Highest Gearing Ratio is iREIT Global (41.7%).
Disclaimer: The above table is best used for "screening and shortlisting only". It is NOT for investing (Buy / Sell) decision. To learn how to use the table and make investing decision, Sign up next REIT Investing Seminar here to learn how to choose a fundamentally strong REIT for long term investing for passive income generation.
Economy Analysis – Singapore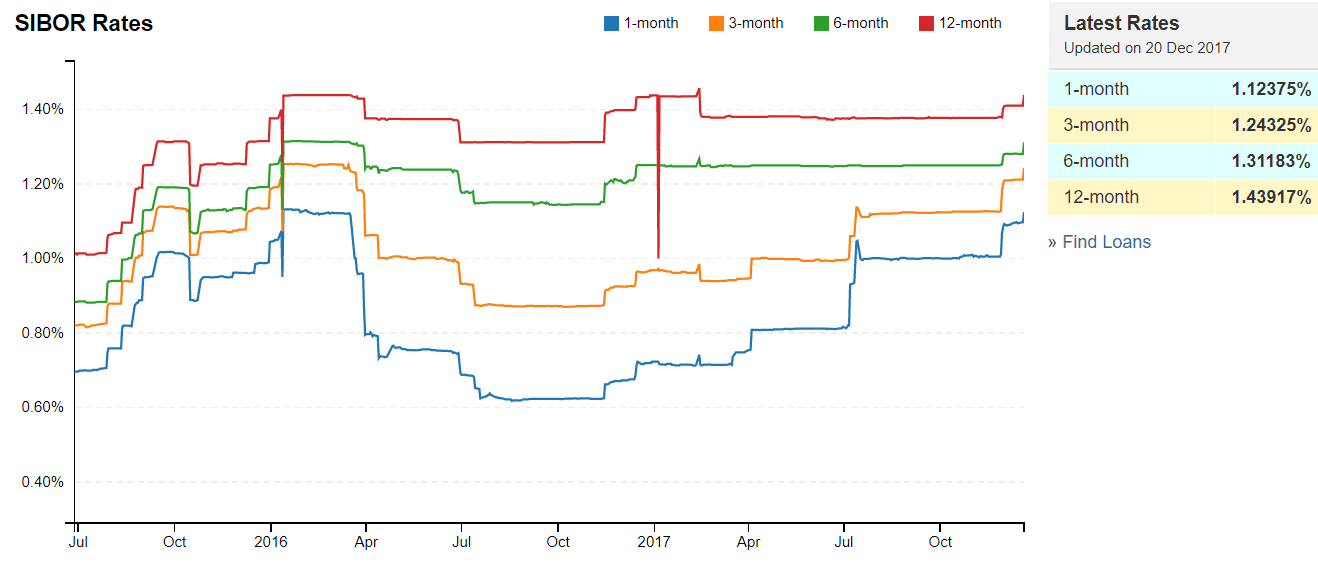 1 month increases from 1.00513% to 1.12375%
3 month increases from 1.12658% to 1.24325%
6 month increases from 1.25000% to 1.31183%
12 month increases from 1.37758% to  1.43917%
Summary
Fundamentally the whole Singapore REITs is over value now. Office rental and price index seems like reversing the trend. Do watch out for the turnaround of this office sector in 2018.  Technically Singapore REITs continues the bullish uptrend into 2018. It is expected the bullish sentiment to continue as Singapore economy fundamental is strengthening based on improved PMI and stronger GDP numbers. As expected, there is no knee jerk reaction to Singapore REIT index in the December 2017 rate hike to 1.5%.
I attached the summary slides of (1) Review of 2017 Singapore REIT performance and  (2) Singapore REIT 2018 Market Outlook which I have presented to various groups retail investors (organised by Adam Khoo Learning Technologies Group and Shareinvestor) in the past few weeks. You can check out the 2018 Market Outlook for Singapore REIT here (last month post).
I will be giving 5-6 session of Singapore REIT 2018 Market Outlook to a few exclusive groups of investors in January 2018.  I see you in the seminars !
Safe investing in 2018!
See all other relevant  Singapore REITs blog posts here.
Check out coming seminars at https://mystocksinvesting.com/events